Today's Top Take
Daily intelligence brief directly from U.S. Chamber President Suzanne Clark
Today, the focus is rightly on how we can work together to limit the spread of the coronavirus pandemic. As we look forward to a time when the epidemic is brought under control, discussion in the media and online has begun to shift to how and when America can transition back to a fully-functioning society and economy.
At the Chamber, we believe that any reopening of the economy and society should be based on guidance from public health experts.
This weekend there was a smart take from Dr. Scott Gottlieb, one of the leading voices in the public debate about how to prudently reopen the economy. In a report published on the American Enterprise Institute website and discussed in a Wall Street Journal op-ed, Dr. Gottlieb listed steps that can be taken to bring the epidemic under control and potential milestones for identifying when we can start reopening the country. His take:
Slow the Spread. This is the current phase, involving school and work closure with limits on community gatherings. These measures will need to be in place until transmission has measurably slowed down and health infrastructure can be scaled up to manage the outbreak.
State-by-State Reopening. Individual states can move to this phase when they are able to safely diagnose, treat, and isolate COVID-19 cases and their contacts. During this phase, schools and businesses can reopen, and much of normal life can begin to resume in a phased approach. However, some physical distancing limitations will still need to be in place.
Establish Immune Protection and Lift Physical Distancing. Physical distancing restrictions and other Phase II measures can be lifted when safe and effective tools for mitigating the risk of coronavirus are available, including broad surveillance, therapeutics that can rescue patients with significant disease, or a safe and effective vaccine.
Rebuild Our Readiness. After we successfully defeat COVID-19, we must ensure that America is never again unprepared to face a new infectious disease. This requires investment into research and development, expansion of the health care infrastructure and workforce, and clear governance structures to execute strong preparedness plans.
Dr. Gottlieb is one of many experts we will be turning to in the coming months to determine how best to restart the economy.
Laying out these kinds of plans now—and working quickly with all stakeholders to implement them—will help our country get back to health so we can get back to business. They also could help reassure people and businesses that better times are ahead—and they are.
Suzanne
CHAMBER IN ACTION
The latest news, actions, and announcements from the U.S. Chamber
Spreading the word about business relief. On a conference call today with the U.S. Chamber's Center for Capital Markets Competitiveness (CCMC), financial services leaders noted many businesses aren't aware of the help for them in the "Coronavirus Aid, Relief, and Economic Security (CARES) Act. The relief available to small businesses is significant, and the race is on to share the word. The U.S. Chamber is producing resources to inform businesses, like our Small Business Guide and Checklist. Also, the U.S. Chamber, alongside state and local chambers, is hosting multiple virtual events and teleconferences, including a National Small Business Town Hall in partnership with Inc. that drew 5,000 attendees last Friday.

Visit uschamber.com/Coronavirus for more information.
ECONOMIC SNAPSHOT
Daily update on the economic impact and new data directly from U.S. Chamber Chief Economist Curtis Dubay
We know the economy is at a standstill and that this "Great Pause" we are in is causing a large contraction. But the full extent of the damage is hard to measure in real-time. It takes weeks, and sometimes months, for major data series to reflect changes in underlying economic activity.
Analysts, including those at the Chamber, are constantly looking for a proxy of economic activity that we can use to approximate what is going on in the economy at this very instant. An example is satellite imagery of businesses' parking lots, airports, and traffic as a way to measure how much commerce is happening right now. Unfortunately, there is a paucity of other such real-time measures.
Into that void the Federal Reserve Bank of New York has stepped in with its new "Weekly Economic Index." The WEI uses seven data series that update frequently to construct an index reading of current economic activity. The data are:
Same-store retail sales
Unemployment insurance claims
Staffing data
A daily survey of consumer sentiment
Raw steel production
Electricity output
Fuel sales
See the table for more details.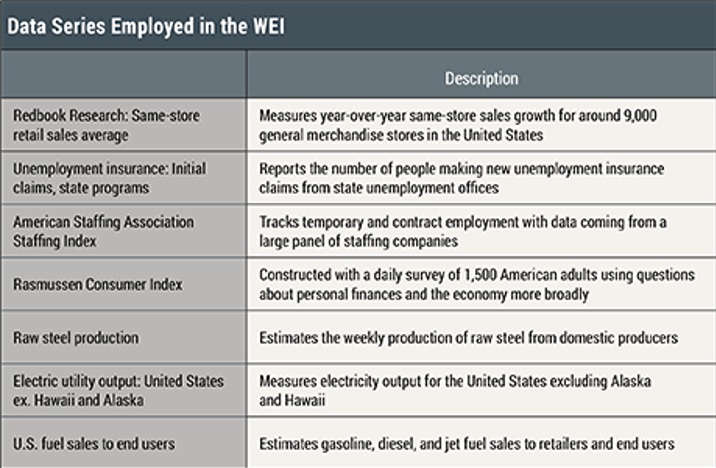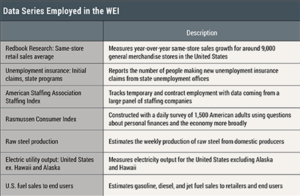 Source: New York Federal Reserve Bank
As expected, the WEI fell off a cliff for the week ending March 21, as can be seen in the chart below. It fell to levels it hasn't hit since the depths of the 2007-2009 Great Recession.
The WEI will be a useful tool going forward as we track the effect of the Great Pause. We'll be watching it closely.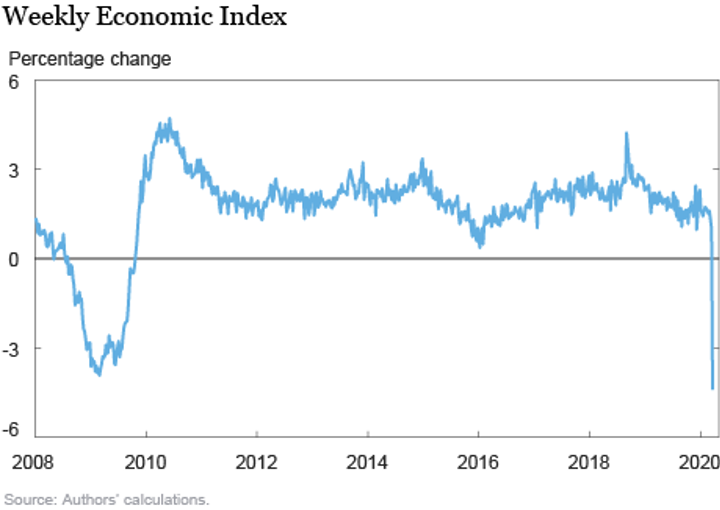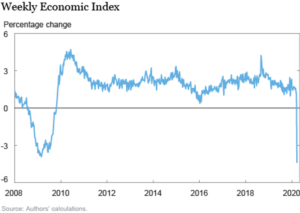 SPECIAL REPORT: WHITE HOUSE CORONAVIRUS TASK FORCE BRIEFING
The White House Coronavirus Task Force held a press briefing this evening. Here are a few key takeaways:
President Trump noted that yesterday the administration announced social distance guidelines would continue through end of April. These measures will now ideally save more than one million American lives, he added.
Health and Human Services Secretary Alex Azar said more than one million Americans have been tested for coronavirus. Both Secretary Azar and FDA Commissioner Stephen Hahn praised the efforts of state and local governments along with the private sector.
CEOs from Honeywell, Jockey International, Proctor & Gamble, and United Technologies gave brief remarks on the contributions their companies are making to the coronavirus fight.
THREE READS
GUIDANCE AND RESOURCES
We will update and add to the links below as new guidance and resources become available
For more info, please visit the CDC's Guidance for Businesses page.
WE ARE WITH YOU.
And we will get through this together. The U.S. Chamber of Commerce is committed to helping you respond to the coronavirus so you can support your employees, customers, members, and communities.
We will continue working every day  to help you weather this storm and emerge even stronger—just as we have at other challenging times in our nation's history.
Visit uschamber.com/Coronavirus for more information.