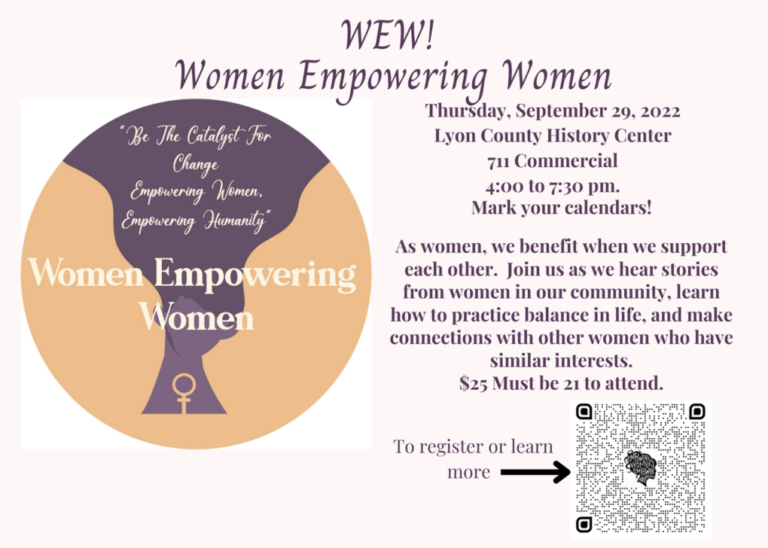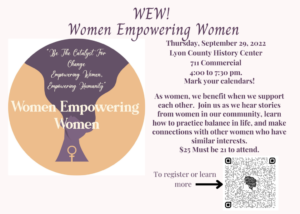 Are YOU ready to explore a new way for ALL women to rise?
As women, we benefit when we support each other.
Join us as we hear stories from women in our community, learn how to practice balance in life, and make connections with other women who have similar interests.
When? Thursday, Sept. 29, 2022 at the Lyon County History Center, 4:00-7:30 p.m.
REGISTER HERE — Cost: $25. Must be 21 years old to attend.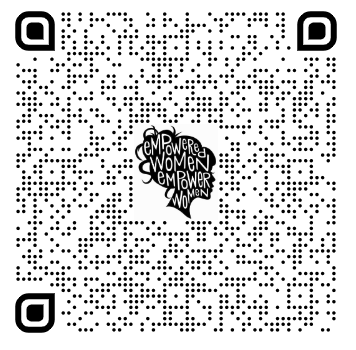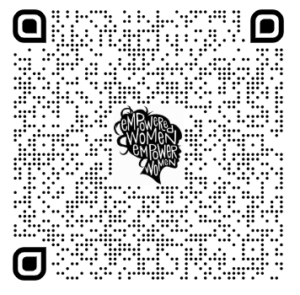 4:00 p.m. — Registration/Check-in & Refreshments.
You'll find a list of table talk discussion points corresponding to tables for those registered. "Table Talk" will center around that topic and how guests can use the topic to support one another.
(For example: becoming an outdoors woman. Perhaps there are several who would like to learn about camping, hunting, hiking, and more.)
There are choices about embarking on this together or possibly just being made aware that resources are available for individuals to pursue.

4:30 p.m. — One Woman's Story
5:30 p.m. — Table Talk #1
6:00 p.m. — Table Talk #2
6:30 p.m. — Work/Life Balance with Amanda Cunningham
7:00 p.m. — Reconnections / Plans / Next Steps
7:30 p.m. — Closing